You are about to embark upon an exciting adventure - learning to read the New Testament in the original Koine Greek language! Here you will learn the Koine Greek alphabet, the basics of the language, and finally, you will experience the joy of reading and understanding the New Testament Scriptures the way the Apostles originally wrote it, which will give you invaluable depth into the Bible when you read it in English.
So what exactly is "Koine" Greek? It simply means "common Greek". Koine Greek was the language of the common people, and varied quite a bit from classic and other forms of High Greek used by ancient writers like Homer. And it should come as no surprise that the Scriptures should be ordained to come to us in the common tongue of the people, when we consider these words of Jesus:
"I thank Thee, O Father, Lord of heaven and earth,
because Thou hast hid these things from the wise and prudent,
and hast revealed them unto babes."
The goal of this program is not to teach you how to master the language, or even to be fluent in it. For indeed, Koine Greek is a long dead language, though it has been kept very much preserved through the New Testament. Our goal is to help you grow closer to God through a deeper understanding of His Word. If you wish for a more in-depth and intensive education in this language, our Valuable Resources section will provide you with some wonderful and easily accessible resources.
Since Koine Greek has not been a spoken language for many, many hundreds of years, the exact pronunciation of vowels and diphthongs (two letters that form a single sound) are in debate by even the greatest scholars. Since we are not trying to teach you conversational Koine Greek, the exact pronunciation of the language is only of minor importance. In most instances, and to aid in your Bible studies, we have chosen to follow the pronunciations presented by the famous Strong's Exhaustive Concordance of the Bible; with the exception of the diphthong "AI" - the Strong's pronounces it "ah-ee", while we have gone with other sources which give it the more fluid sound of "I" as in aisle and Taiwan. Don't worry, we'll get into that later. But again, we are not attempting to teach you conversational Koine Greek. It is sufficient for you, with this course, to just be able to read and understand it.
At the end of each page will be a link to the next page in this program; but for your convenience we've included a link to each section in the main menu so that you can easily go back to any section.
You will, naturally, want a copy of the Greek Textus Receptus New Testament for this course. "Textus Receptus", meaning "Received Text", is a term referring to the New Testament which the Apostles received from God. If you do not have a copy, scroll down for info on how to obtain one. If you are ready to start, please continue by clicking
QUESTIONS? YOU CAN CONTACT US HERE
HOW TO GET YOUR OWN
Textus Receptus New Testament in Koine Greek
as it was written by the Apostles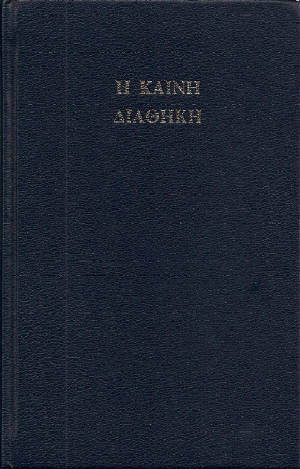 We do not sell anything. We do not want your money. This is a totally free course. However, you'll want to get a TEXTUS RECEPTUS Greek New Testament to actually put this course to use. Besides, EVERY Christian should own one anyway. We are constantly on the look-out to find a publisher that is offering this Bible at the best price.

BEWARE! NOT ALL GREEK TEXTS ARE THE SAME. THE DEVIL HAS FAKES OUT THERE!
CLICKING ON THE BOOK AT LEFT WILL TAKE YOU TO A SITE THAT SELLS THE TEXTUS RECEPTUS GREEK NEW TESTAMENT UNDERLYING THE KING JAMES VERSION - THE ONLY AUTHENTIC TRANSLATION OF THE SCRIPTURES IN ENGLISH.
If you are interested in Bible edition that contains both the Hebrew Old Testament text and the Greek New Testament text in a single book: